Are you anywhere else online?
You can email me at doubtingmarcus@gmail.com and you can follow me on twitter.com/DoubtingMarcus (though my twitter is largely just my tumblr feed).
What/Who  is this blog for?
This blog is for anyone who is interested in rationalism, skepticism and atheism and everything it entails. By listing all three I essentially created an ideological Russian doll but nevertheless someone interested in one of the three isn't necessarily interested in the others. As someone who trying hard now to be a rationalist and is definitely a skeptic I spend considerable discussing the boundaries of reason. Particularly through promoting science and exposing pseudoscience, and discussing supernatural claims and in particular I frequently discuss religion. This hasn't traditionally been a blog about politics but as that is the center of much irrationality and uncritical thought as any field I am now in the process of implementing much more political discussion. I post famous quotes, my thoughts, videos, both archival and up to the hour posts, pictures and occasionally links to everything related to open inquiry of any of the above topics.
You seem to be just as unreasonable as those you criticize. What makes you any different from those you consider irrational?
I reject faith, belief without evidence, and I at least attempt to base my beliefs on evidence and reason. This, unfortunately, is far more than many of those ideas that I'm critical of here. Nonetheless I've been wrong before and will change my mind on any issue if I am presented with a good reason to do so.
Why do this?
I am passionate about the truth but realize that it's difficult to even know how to approach it. I'm fascinated and awe-struck by much in the scientific field but conversely I am disheartened and disturbed by the effect pseudoscience, superstition and general uncritical adherence to ideology have on the world. Additionally, if I dare say so myself, after considerable time and effort examining the arguments for and against theism I've become rather proficient at discussing that topic and this is why supernatural claims get more than their deserved share of the attention. Also this is why the questions below exist.
If you don't claim with certainty that there are no gods aren't you really an agnostic instead of an atheist?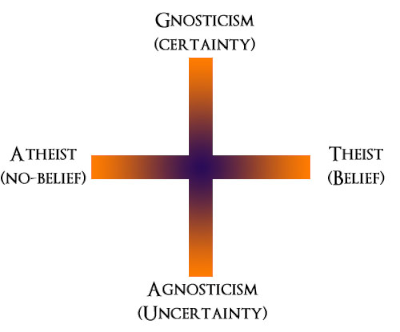 No, because agnosticism is not a middle ground between atheism and theism. 'Atheism' and 'theism' are terms in reference to belief in gods while 'gnostic' and 'agnostic' are terms in reference to knowledge about a claim. If you don't believe in a god you are an atheist but that doesn't mean you claim with certainty that there are no gods. For example, I am an agnostic atheist meaning I don't believe in gods, the atheist portion, but I don't claim with absolute certainty that no gods exist, the agnostic part. There is no requirement that an atheist rules out the possibility of any conception of god including those which haven't even been conceived of yet, only that they do not actively believe that any gods exist.
Why don't you believe in God?
I don't believe there has ever been any convincing evidence or argument ever put forth to justify believing in a god. See my counter-apologetics collection to see my responses to common reasons to believe in god. If you ever feel I am wrong about the logic behind any of my responses, even if you are an atheist, please feel free to point out the flaws, I am happy to make corrections. I also have an open challenge to all believers to demonstrate that god exists and/or their religion is true and I will stop doing this blog in it's current form and join their position/religion. My ask box is always open.
Don't you know you are never going to convert anyone? Why don't you just stop attacking religion?
First of all, all argument isn't futile. For one, I changed my mind on this issue and although it is rare, occasionally people do change their minds on even their most central beliefs. What's often lost in fatalistic claims that everyone is set in their ways is that on every topic there are many people who haven't made up their minds or are barely leaning one way or another. To these people I can provide a very valuable service. Moreover it's not as if I am going to religious forums and challenging believers, though in the past I have commented on a few Youtube videos praising the fallacious work of one apologist or another. What I write here can easily be avoided by unfollowing me or by simply ignoring it as I do with practically every religious message I see posted on facebook, twitter or tumblr. Though this is a privately owned site it essentially functions as a public space and in places like this all views are liable to criticism and all views should expect to receive it especially for views with little evidence to support. Lastly, if you can't handle the fact that there are people who openly advocate a position you disagree with that is a personal problem you are going to have to learn to overcome.
Were you once religious and when did you first become an atheist?
I was raised somewhat Christian but never attended church except on rare occasions with my extended family. However, I believed in a real heaven and hell until about the age of 14. The long answer is here.